So, my blog sis, Erika, shared this lovely challenge which was brought to her attention by our friend, Rob, who invited his readers to participate.
An opportunity to celebrate yourself in a positive light. Something definitely worth doing, in this world that can be filled with negativity most of the time.
The 'Ten Positive Things' Challenge comes from Bipolar Whispers who writes:
"I tend to see things negatively when it comes to myself. So I thought I would challenge myself. In doing so I am also challenging you. Yes YOU! The readers of my blog. I want you to write 10 positive things about you that have nothing to do with any of your mental health issues. Post them on your blog and link the link in the comments. "

Bipolar Whispers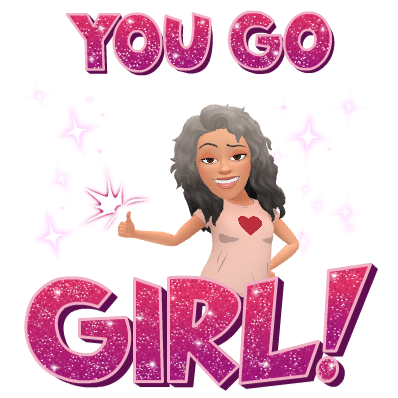 Ten Positive Things About Me
If you see me, you are guaranteed a smile. That is one thing I will promise you. For me a genuine smile is the most simple, yet effective greeting. It opens up the world to you.
I talk. A lot. now, some might not think this is positive, but for me, my habit of chatting away to so many different people, has opened up a world of possibility. A way to reach into the lifes of people who aren't in my usual circle. I learn so much whenever I talk to new people. Words are comfort to those we know too. I hope, I provide comfort to those I speak too. And knowledge. I should. I am a teacher after all!
I see life as a glass half full. Yes, I pride myself on being that person who will always attempt to find the positives in any situation, and will suggest solutions to make the best of a not so good situation. It makes life much easier to handle, if you can imagine the positive outcomes, instead of focussing on the negative.
I find pleasure in food. Yes, I know I constantly moan about losing weight, but I find immense pleasure in food too! It doesn't have to be unhealthy to be appealling, and I love to create beautiful plates of food to entice, not only my tastebuds, but those of my family too.
There's always a song. Yes, I love to sing, and I can find a song, or even make up a refrain to sing along to, to keep my happy levels up. The amount of times I have broken the tension, especially with my hormonal kids, by singing something appropriately inappropriate, leaving an awkward situation becoming more amenable, I can't count!
I believe in myself. Sounds simple, but its actually something many of us can't do. Instead of focussing on the strength within, many of us hone in on the doubts. Don't do it! I have slowly got to a place in my life where I am happy, and I am on the road to achieving what I really want. It all helps to keep me positive, because I know I can do it. If I don't know that, about myself, how could I achieve anything?
Finally, I am following my dreams. It took time to get to the stage in life where I don't always focus on others. But now, here I am, teaching a class of children, which was one of my first dreams, author of one published poetry book, and editing what I hope know will be my first published novel!
I have the best support network and I appreciate them all every day. Family, friends, colleagues. Their attitudes and advice help to shape me and give me the strenght to be as positive as I am. I am my no means a person with my head stuck in the sand. I know bad things happen, but with the right scaffolding around me, I know I can always get through anything.
I find beauty in everything. From the flowers in my garden, to the clouds in the sky, the pitter patter of raindrops to the rustling of leaves. and not jsut nature. In the words I read, the lyrics I listen to, the sights I see in life, the smells I take in, the tastes that pevade my mouth when trying new things (apart from Tonic water.. no thank you, no beauty there!) there is beauty everywhere, and finding that beauty helps me feel positive every day.
I love me. I am not stating this in a really pompous way, but it is just a statement to let you know I have accepted myself for who I am, faults and all, and because I know I'm generally a pretty alright sort, decent human being, and happy, it's safe to say I love who I am. I am comfortable in my skin, with my thoughts and with my attitude to life.
Anyone up for positivizing their life? (Yes I made up another word…), I urge you to dig deep and find those 10 things that show a positive you. find them, write them down, post them, and celebrate them. Then, on those down days, read it again and remember you are fantastic, because you are YOU!