A few weeks ago, on a night out with my girl gang, the Tootie Frooties, we discovered that there was a new play about to be performed at our local theatre.
It was an Anglo Indian production, small, with two actors, one of whom who had written the play.
This means Love, Actually.
Reading a basic synopsis of the story, I readily said Yes!
Polly has a reliable husband, two bright children, a well-paid job at the council and detached house with a double garage. She's got it all. She may not be living the life she dreamed of back when she was a teenager, but who does?

Bali is a successful businessman. Loving his jet set lifestyle he swore he'd never return to the small town he grew up in. So why is he back? Is it too late for second chances? And is love, actually, all you need?
Then I slowly realised that this was actually written by someone I already followed on Instagram, Sukh Ojla or @forsukhssake. She is a brilliant stand-up comedienne too, and has featured in TV programmes and is even in the recent cinema release, Victoria and Albert!
And best of all, she is a local girl, with roots in the town I was married into!
I was excited.
We were watching the last show of the run here in the local theatre before they went off to various other towns and cities in the UK. Several other friends of mine had been to see it already and were raving about it.
As it was a small production by Rifco, "an award-winning British Asian Theatre Company that develops and creates vibrant, accessible and high-quality theatre which reflects and celebrates the contemporary British Asian experience", it was in the smaller theatre studio, and there was unreserved seating.
With this in mind, we arranged to meet early so we could get good seats.
I was there ten minutes earlier than planned because that's just me. Slowly the group assembled…
Before long most of us were there and the queues started to form to get in. We were in there, but without one key member… the one with the tickets!
With moments to spare she arrived, but the front was all filled up. Still, we grabbed cushioned seats at the side and had a great view!
The set was simple, and something that was easily manoeuvrable by the two actors, to create the atmosphere required.
And what of the play?
I really enjoyed it! It was a humorous look at the life of a married British Asian woman, and what happens when she gets contacted by her ex-boyfriend.
We laughed at the typical Indian jokes, "Innit!" and cringed at the depictions of clandestine meetings with boyfriends past, not because they were badly portrayed, but more because we were able to relate to them!
The use of simple Punjabi phrases littered within the dialogue created an authenticity within the portrayal of the life of a woman who was essentially every one of us women in the audience, to an extent.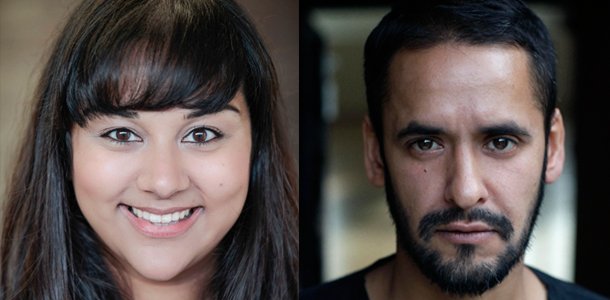 The ex-boyfriend was excellently played by Simon Rivers, a successful businessman whose life is unravelling due to alcoholism, and the loss of his mother. Reaching out to someone who meant something in his past, initially to absolve himself of guilt, cascades into a waterfall of emotions.
Polly, the lead character, played by Sukh Ojla, was someone we all knew. A married 40-something woman with two kids and a nice house, who was content with life, but not really happy.  Deciding to meet this blast from the past could go one of two ways… which way did it go?
Sukh also doubled up as Auntiji, the typical Indian Auntie/friend of mother, who somehow knows everything that is going on, and even plays Call of Duty!
A little set of twists at the end, made for a thoroughly enjoyable story. I'm not about to give the story up to you guys! You need to go watch it yourself!
And at the end of the performance, we hung around for a group photo with the main girl. and I had my own fangirl moment of selfie-dom with her!
A fun afternoon for all of us who went!