I wanted to have something really witty to write about this morning… but alas life did not allow me to do that. Instead, work is dragging me down, being faced with some huge responsibilities (which I can handle) and a group of children in a class that I feel I cannot help.
I could have ranted again about the ridiculousness of the Government expectations for children aged 3-5, or moaned about the lazy parenting that results in classes full of children who have no patience, no respect, no clue… but I won't.
Instead, let me share some Friday Funnies I found on Google, I needed a giggle, and I believe everyone could use one at some point… It's Friday after all!
I did so well with my weight loss… then holidays happened and a little of the weight crept back… I'm still attempting to eat well, but the naughty snacks keep appearing… maybe I should just accept that my real true love (apart from Hubby Dearest, and my family!) is food!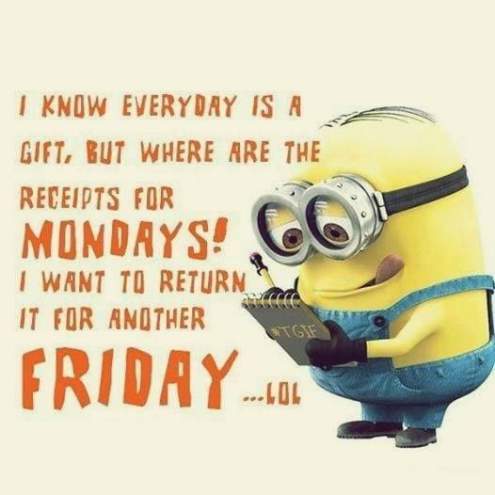 Unless it's my birthday or the holidays, then yes please! Can I exchange my Mondays too? I'd rather have Sundays!
I LOVE you Friday!!!!!!
Have a great one Peeps!!!!