"So, I have something to tell you…"

Ritu Bhathal
Thanks, Spidey, for letting me use your post as a kind of confessional, to my readers.
So, a couple of you already know, but I have been rather unwell the last couple of weeks. I didn't make a big deal of it on here, because, well, I didn't want anyone to worry, but now I am on the mend, I thought I'd share with you about my experience of ending up catching that horrible virus, that I have managed to avoid for the last two years.
Yup. Covid got me.
My Covid Diary
Dearest Peeps,
You know I have been complaining of being a little unwell, and, well, that's one way of describing it.
You see, I finally succumbed to that monster, Covid-19, possibly the Deltacrom mutation, who knows, but it hasn't been pleasant.
I have been so careful the last two years, yet still, it got me.
Monday 7th March
Oh, I am feeling so tired, and it is only Monday. School hasn't even started yet!
Tuesday 8th March
Another day of waking up fatigued, even though I slept early.
Wednesday 9th March
Yup, still tired. I'll do a test. After all, it is Wednesday, one of our Bi-Weekly days for testing in school. Negative. Another early night for me. I do feel a little breathless, though… It's been building the last few days. Out of breath just walking a few steps, or up a flight of stairs.
Thursday 10th March
Wow, now that is a sore throat to wake up to. Better test. Negative. Dose up on the Paracetamol and make sure I have my throat sweets with me. Just found out one of my school colleagues has tested positive. Poor thing. She was feeling rough yesterday.
Friday 11th March
Ouch, that throat is still bad. A message to say another colleague has tested positive. Let me just test again. Nope. Negative. Only one day until the weekend. I can get through. By lunchtime, my nose is streaming, and I can't stop sneezing. The pressure around my sinuses is building fast. I leave school as quickly as I can and tell my in-laws I won't be popping in as I feel unwell but collect the kids to take them home. As I drive, the pressure from my sinuses causes a headache that I cannot deal with, but I must get home. Quicky, do a test. It takes milliseconds to appear. That line that I haven't had appear before. The second one proves it. Yes, I have a positive test. Funny, 18 years ago, all I wanted was a BFP (Big Fat Positive) when we were trying desperately for a baby. Now, I really didn't want to see this. But it all makes sense. I message Hubby Dearest to tell him and get the kids to test. Negative, thankfully, but that means nothing. It could hit them at any time. I dose up on more painkillers, make a warm drink to soothe my aching throat, and climb into bed.
Oh, this is not nice. Not nice at all. I speak to NHS Direct, because, let's be honest, there is no clarity in the Government guidelines about what you can and can't do, or should and shouldn't do, that makes sense. They confirm that since I started symptoms the day before, even though the test was negative, that was my Day 0. So, today is my official Day 1, and if I get to Day 5 (Tuesday), and test negative that morning, and the next, I am okay to go to school. (Obviously, if I feel better, that is.) Messaged the school to let them know. Oh, man this is going to be fun… I am losing another member of staff, a couple of weeks early, too, so how will this pan out? Oh, and been pinged about another colleague testing positive… That's four…
Saturday 12th March
Day 2 – Yup, I am definitely ill. I have used a box of tissues so far with the way my nose is streaming. Cough, cough. That hurts. I even need the inhaler as I feel that weight of breathlessness crushing my chest. But, no temperature and I can still taste and smell. Small mercies. A day in bed, watching mindless TV, reading, and snoozing. It is strange having to walk through my own house wearing a mask, and when I must, and spraying disinfectant everywhere. Thank goodness the kids are teens and love to be holed up in their rooms, instead of mixing with us! Get them tested again. Still Negative.
Sunday 13th March
Day 3 – I wake with a slightly less runny nose, but the cough… and the pressure on my chest… not going anywhere. I can feel a little pressure on the sinuses, and a niggle of a headache but nothing like Friday. The test is still a very strong Positive. I know. It's not Day 5, yet, but I was hoping for it to become feint, or at least a little feinter… Another 'take it easy' day. It's a good thing I like my room, isn't it? Kids are still negative, though, so that is a relief. Get a message from school. I have a supply teacher to cover my class, thank goodness. But now we are up to eight members of staff positive. Thankfully not in my team, but still, that is a lot of adults down… Think positive, test negative, Ritu!
Monday 14th March
Day 4 – Wake early. Feel a bit better. It's just the cough, sore throat and the breathlessness left, I think. Tested. Still very dark positive. Meh! I manage to do a little work, not because I am expected to, but because I want to. It makes me feel useful, at least. Kids aren't in school as they have an inset. They still test negative. By lunchtime, I am flagging. The pressure on my sinuses is building, and I can feel a dull headache coming. I sleep. Then wake again. I feel exhausted. Losing hope that tomorrow will give me a negative, but you never know. Another staff member unwell, but no Covid… yet. Got a Dr calling me on Wednesday. Will be talking about the breathlessness. It is worrying me.
Tuesday 15th March
Day 5 – I hope, beyond hope, that I get the first of those two negatives, so I can be in school tomorrow. I've been up since 4 am, as my body clock is doing silly things. I hate being off, away from my class and team, and despite being thankful for a supply teacher, I really don't like leaving my kids with one… No such luck. It's positive again. Still got that breathlessness and every time I eat, I feel nauseous after. Test the kids as it is back to school for them, negative, thankfully. However, as I get a little work done, in the morning, a message comes from Lil Princess. She's feeling sick. Then, she's been sick. I have no choice but to mask up and tear down the road, windows open, to pick her and her brother up. It is a bit of a trek, from where we live now, to school, so when someone is not well, it isn't that simple. Plus, I don't want to ask the in-laws as they are still vulnerable, and I will not risk them getting ill because of us. By 12 pm we are back home. I am exhausted again. Hubby Dearest comes back from work a little earlier to finish his day at home, but he was too far to go and pick them up, so we just have to work with things as they are. I rest up again. By the evening, I start to feel warm. For the first time, I have a slight temperature. That was one of the 'main symptoms I hadn't experienced, yet. Sore throat, yes, but so far, my smell and taste is intact. Hopefully, an early night will help me out, and that negative… Fingers crossed for tomorrow…
Wednesday, 16th March
Day 6 – I woke, I tested. I got a negative! Still not feeling bright though. Checked on kids and one is still not right, so spoke to the school about absence, and whether it was okay for Lil Man to work from home, as he only had one lesson. Done. Then walked past my test, which now said Positive! Now, I know not to read them after 30 mins, but it had been a bit dark when I did it. So did another. This time a feint line, within the 30 mins. Obviously, the viral load has gone down, hence the feint line, but it is still there. Today I had calls with doctors, and a Zoom course to attend. Nothing too taxing, and something I could do from my bed. However, just talking to someone for more than a few moments still causes me to get breathless. Me, not able to talk is not a good Ritu to be. Also, any food makes me nauseous, half an hour after eating. And the tiredness. Morning is fine, then lunch comes, and I need a proper nap! Contacted a couple of my other positive gang and they all have varying lingering symptoms, still positive, but better in many ways. Everyone has the tiredness, though. Meh. Off to bed, again.
Thursday 17th March
Day 7 – the feintest of positives, but still there. Oh, well, that's me off school until Monday. I feel much better in most ways, but the breathlessness and heaviness on my chest is still playing havoc. A couple of minutes of chat on the phone causes me to lose my puff. Kids are still negative, which is a weight off my mind. Work during the morning. At least I have been able to be practical with the time I have off and have done a lot of admin that will just sit there, otherwise. Afternoon rest, then today, I had to go, masked up with windows down to pick up the kids as Hubby Dearest is in London, and I still don't want them going over to the in-laws, yet. Back home, I rest up, again. Try to arrange an appointment with my new best friend, the receptionist in the doctor's surgery, as I am a little worried about the whole chest situation. Hope I get to speak to someone tomorrow, but tentatively booked in for a phone consultation on Monday, anyway. The team have been messaging me all evening with lovely supportive messages. As have certain members of my management team, too. It means a lot that they care. I am blessed to work where I do. It is stressful, as a job, but we are in it all, together, and that's what counts. Right. Off to try and get another decent night's sleep!
Friday 18th March
Day 8 – Guess what? My first negative test! Finally! I feel a lot better, compared to last week, but I know I am not right, yet. I manage to speak to the doctor's surgery, and they have told me to continue with my inhaler for now, as this particular symptom of Covid, the breathlessness, and tightening of the chest when I cough, could be with me for a few months. Oh, joy! She didn't want to keep me on my phone for long because she was aware that too much talking would cause more breathlessness… A little more work done, and rested, again. Still get tired. I don't know how I will cope without afternoon catnaps next week! Still, I am grateful that I have the rest of my health and that my family are healthy, too. Managed to eat without feeling nauseous, too. In a way, I wanted that to stick for a while… It might have helped me shift a few lbs! Never mind. Off to watch Comic Relief.
Saturday 19th March
Day 9 – Negative, again, yay! And even though I am still in need of the inhaler, things are looking up for me. I pottered, enjoyed the beautiful spring weather, too, and hoovered a little (but needed a proper rest after!) then tonight, for the first time in over a week, I cooked. I am still thankful that I haven't lost my taste or smell, but it's also good to have the appetite back a bit more. And, just to add to things, this turn of good weather has also decided to activate the year's hay fever! Wonderful!
Sunday 20th March
Day 10 – officially, after today, I should not be contagious in any way, but I'll still be taking it carefully. It will be a day of getting things ready for school, for tomorrow, and ensuring I have medications packed in my bag, for anything untoward. Covid has not been fun, at all. I wasn't so severely affected that I needed hospitalisation, but I didn't get off mildly either. A solid week of feeling rough, a lingering little cough and fatigue, and this breathlessness which is promising to be a close friend of mine for a while yet. But I am thankful I am okay, and that the rest of the family stayed negative all that time.
Wish me luck for school, tomorrow!
So, have you stayed safe, or have you succumbed to Covid at all?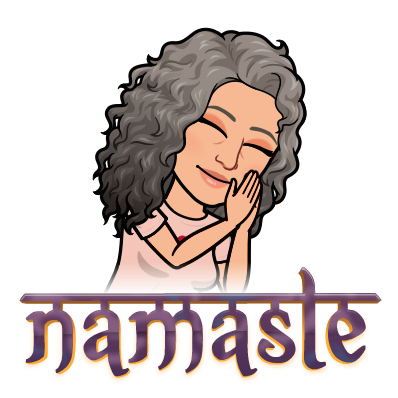 Wishing you a wonderfully peaceful Sunday, Peeps!